4 port USB charger
One is enough for whole family
Ultra powerful 4 ports USB charger pumps out 30W (up to 2.4A for each port) to charge 4 smart phones or tablets simultaneously, meeting the charging requirements of whole family.

Intelligent detection IC
No virtual power, no over charging
Different devices need different currents in different charging periods. Built-in intelligent detection IC, ORICO DCH-4U-V1 enables each port to detect and deliver ideal current of up to 2.4A, quickly charge devices without damage.

MPS synchronous rectification
Energy-saving and fast
Isn't charging speed fast? Is your charger hot? Because your charger consumes too many energies. Thanks to MPS synchronous rectification of US and advanced PCB technology, DCH-4U's conversion rate of energy is up to 88%, which causes less heat and is more environment-friendly.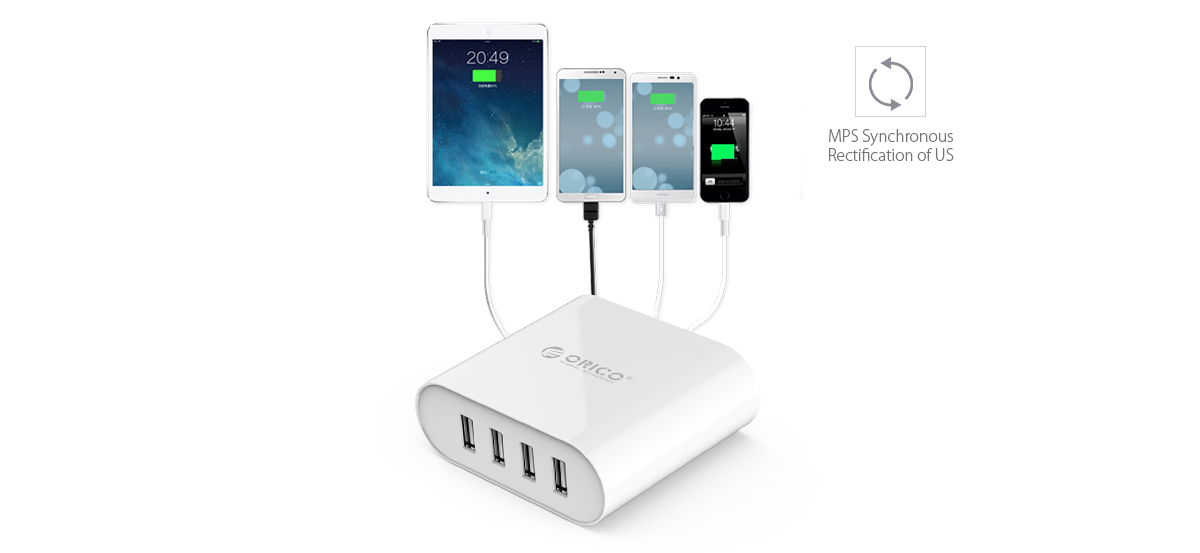 Current control circuit
No accident, more secure
A current control circuit monitors output current in real time, and USB stops output once abnormal current or short circuit happens, helping to defend the integrity of devices and avoid accidents.

Versatile digital charging station
Handle cellphones and tablets
Compatible with Apple, Samsung, Lenovo, Huawei and other major brands; work with cellphone, tablet, PSP, Bluetooth headphone and other digital products.
Small and beautiful
Not only a charger, but also a decoration
Upgraded DCH is simpler and more beautiful, which is not only a powerful charger, but also a lovable decoration.

Delicacy in every detail
Perfect technology
Oil painted finish and sleek corner perfect the design; blue LED indicator shows charging status; 1.2m separating power cord is easy to reach a long distance; black PCBA reveals our professionalization.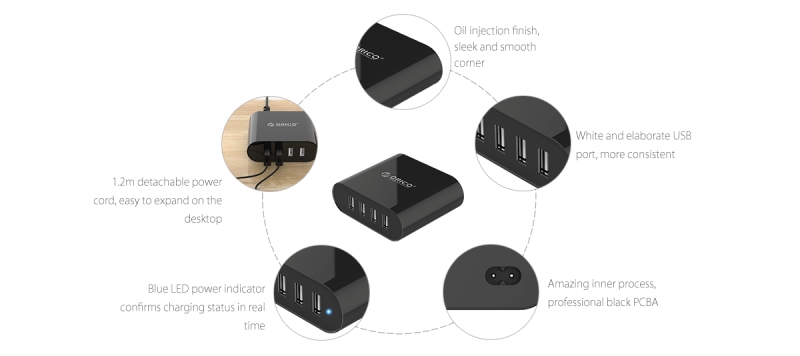 Multi-protection safety system
Charging is more reliable
ORICO's multi-protection safety system ensures complete protection for attached devices from electrical short circuit, over heat, electric surge, over charging, over current and etc.

100 - 240V universal voltage
Charging without borders
100 - 240V universal voltage allows it to be used in different charging environments of different countries and regions.